The Girl Next Door.: A one time watch.
About Movie
A beautiful story of a Young boy from High School, who falls in love with a young teenage girl at his Next door and later finds out that she is a Porn star. This is a good one time watch movie.
I like to go with the flow, I like to feel every emotion that I am watching on screen. This movie has it all. Romance, Entertainment, Fun, and a joy ride which keeps you engage through out the movie
Friendship
A Group of 3 boys "Triopd".who are very different from others in class, They didn't even have any memory together that they can write on the thing that they will always remember and this Newbie lady "Danielle" brings all the moments in their life that they can remember forever.
You will enjoy the bond of these 3 friends who can do anything for their friendship. That's what we call a "Triopd".
If its one leg is destroyed, Other 2 would also gonna Fall.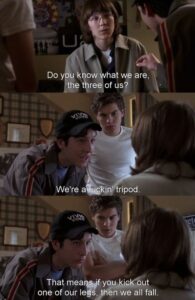 Love
Improvement makes you stronger, That's what Mathew has done for his Love in the movie. The very first time he saw Danielle , He fell in love with her beauty and says "She is an Angel".
But what i like the most about Mathew is the fact that he loves her unconditionally and does everything to make her step out of that Adult Film industry. They had a connection which can easily be felt ,She wants to get out but can't say it and he knows, what she is suffering from and expresses his love for her with a beautiful kiss. Their chemistry is really good in the movie.
Care.
"Moral Fibre"is the term used in the movie which has different meaning because of different perception. Moral fibre scene in the movie has an amazing impact over audience, When Mathew explains the true meaning of Moral fibre , the background music elevates the whole scene. According to Mathew Moral Fibre is something when you care for others unconditionally. Look at this speech , you will get it.
Learning
Life is unpredictable, You can't predict it, Its gives you unexpected moments that later on can become the most memorable part of your euphoria. You'll get all the moments in your life whether if it is good or bad but it has to be on perfect time , Some people get things early and some gets lil later.