The List of 10 highest paid actress of 2020 in the world is here.
10. Viola Davis.
Earning: $15.5 Million.
Viola Davis (born on August 11, 1965) is an American actress and producer who known for her distinctive performances. She is the recipient of an Academy Award for Best supporting actress, Emmy Award and Two Tony Award.
9.Elisabeth Moss
Earning: $16 million
Elisabeth Moss( born on July 24, 1982) . The "Queen of peak TV" is an American actress and producer. She is the recipient of two Primetime Emmy Awards and two Golden Globe Awards her name was also nominated for the Tony Award for Best Actress in a play.
8. Ellen Pompeo
Earning: $19 Million
Ellen kathleen Pompeo (born on November 10, 1969) One of the most renowned TV actress, Pampeo is an American actress and a producer. She has been one of the world's highest paid actress since 2017. In 2016, she was ranked 4th in the list of highest paid TV actresses by Forbes, with the earnings of $14.9 million. She gained a worldwide recognition for portraying the role of Dr.Meredith Grey in the famous series " Grey's Anatomy"

7. Nicole Kidman
Earning : $22 Million
Nicole Kidman (born on 20 June 1967). Kidman is an American Actress and a producer. She is the recipient of two Prime time Emmy Awards, and five Golden Globe Awards. She has also received an Academy Award for Best Actress. Her name was listed Twice by Times Magazine 100 Most Influential people in the world in 2004&2018
6. Emily Blunt
Earning: $22.5 Million.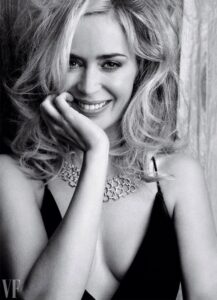 Emily Olivia Leah Blunt (born 23 February 1983) is a famous British-American actress known for her roles in films such as
" The Devil Wears Prada,' 'Into the Woods', 'Edge of Tomorrow,' etc. Her performance in the comedy drama 'The Devil Wears Prada" won her a "Golden Globe Award for Best Supporting Actress". She is also the recipient of Screen star Guild Award and for "The Girl on the train" she was nominated for the BAFTA award for Best Actress in a leading Role.
5. Meryl Streep
Earning: $24 Million.
Meryl Streep (born June 22, 1949) .Streep is an American Actress who needs no introduction, her name is enough to recognize her. She is often described as the Best actress for her generation. She has a record of 21 nomination of Academy awards from which she has won 3.
4. Melissa McCarthy
Earning: $25 Million.
Melissa McCarthy (born on 26 August 1970). McCarthy is an American actress, comedian, writer, producer, and fashion designer. she was nominated twice for Academy Awards and Golden awards and she is also the recipient of 2 primetime Emmy Awards.
3. Gal Gadot
Earning: $31.5 Million
Gal Gadot (born on 30 April 1985). Gal is personally one of my favorite actress. The wonder women is an Israeli actress, model, and producer. She won the title of Miss Israel at the age of 18 in 2004 after that she served for 2 years as a fitness/combat readiness instructor in the IDS( Israel Defense Forces). Gadot gained worldwide recognition as Wonder Women/Diana Prince in DC Extended Universe.
2. Angelina Jolie
Earning: $35.5 Million
Angelina Joile (4 June 1975) .Jolie is an American actress, filmmaker, and humanitarian. She has numerous awards under her name including an Academy award for best supporting actress and a Golden Globe Award. Jolie has been in the list of highest paid actress multiple times. A Game(TRA) has been made as her Character from "Lara Croft: Tomb Rider" which gave her huge popularity among public and established herself as a leading actress of Hollywood.
1.Sofia Vergara
Earning: $43 Million.
Sofia Vergara (born on 10 July 1972). Sofia is a Colombian-American actress, television producer, comedian, presenter and model. She was nominated for 5 Golden Globe Awards, 4 primetime Emmy Awards and 7 Screen actors Guild Awards after been seen in the comedy series "Modern family". As of 2020 she is a judge in the famous show "Americ's Got Talent"