Pamela Anderson marries for the 5th time.
Pamela Denise Anderson was born on July 1 1967. Pamela is an American actress, model and Television personality. She is famous for her appearance in Playboy Magazines. Recently this 53 year old lady made headline when the news of her marriage went viral on social media. Let me tell you Tommy Lee, Kid Rock, Rick Salomon and Jon Peters ,these are her ex husband and now she got married with her Bodyguard-Husband Dan Hayhurst in an intimate wedding ceremony which was held at the backyard of her house in Vancouver Island, Canada.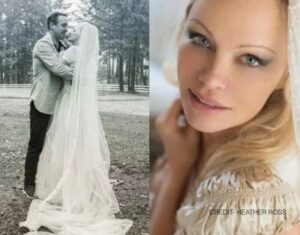 Her bodyguard husband also resides in Vancouver Island, Canada. They both got close to each other during the pandemic. This is Pamela's 2nd wedding in 2020. She married in the house which she bought from her Grandparents 25 years ago.. Their pictures of wedding ceremony was shared on Instagram by Photographer Heather Ross.