Bollywood celebrities who owns Private jets. Truth is here.
No doubt that Bollywood celebrities live a luxurious life. They have everything which we people can dream off. From wearing expensive clothes worth lakhs and above to attend and organize expensive parties in City. They have expensive cars too from Ferrari to Lamborghini even the value of their houses will leave you in big "Aww". Shahrukh Khan the King Khan of Bollywood lives in His dream house " Mannat" which cost is 250 crores INR.
You can easily see the lavish lifestyle from all these things that they do or own. But don't be surprised this has only been done all because of their hard work.
But Do they own a private jet?This question is one of the most asked questions on the internet. To find the answer I have gathered some facts that you could see the real answer.
See Bollywood is the largest film industry that produces the most number of films in a year but that doesn't mean that Bollywood celebrities are as richest that they could easily afford a plane on their own except Shahrukh Khan, Salman Khan, Amitabh Bachchan, and Akshay Kumar. These 4 celebrities can buy a private jet.

There were rumors and many Celebrity websites Claims that these 4 celebs own private jets but let me tell you that No above-mentioned Celebrity has ever confirmed these details of having their private jets on their own… Ha Bhai sach Mai.
Even Akshay Kumar Travels with Charted Flights which is a Cheaper and a Luxurious option.
In the pictures below you can see private agencies name Hawker and Airone and let me tell you that "The average hourly rental rate of the Hawker 850XP is around 3,950 USD per hour"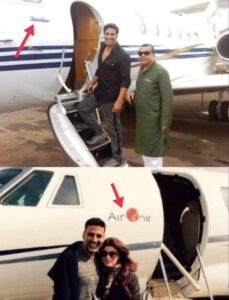 They don't own any private jet, not even Shahrukh Khan.
Shahrukh Khan once said in an interview that "he would have it but not yet". See the interview below.
Here I have gathered some pictures that you see everywhere on the internet claiming these celebs own a private jet.
PSEUDO REPORTS. Bollywood celebrities who own private jets. Look below.
Shilpa Shetty

• Shahrukh Khan

• Hritik Roshan

• Amitabh Bachchan

• Sunny Leone

• Anil Kapoor

All these private jets were used by actors for their travels and not owned by Any above-mentioned Celebrity.
Most websites also claim that Ajay Devgan is the only Actor in Bollywood who owns a private jet. But this is not at all true.
He has never confirmed these details of having a private jet. He also travels with a charted Flights. You can see in the pictures below that Ajay Devgan using 2 different private jets for his travels. If he had owned a private jet, he wouldn't be using 2 different jets.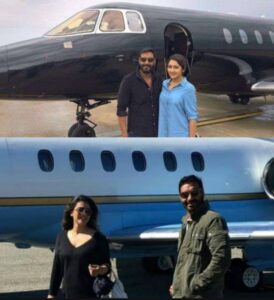 Do you Guys Remember once Diljit paaji made headlines about having a private jet? No..ok, let me tell you.
The limelight and crying on Social media are transient. We shout, we stay and we are forgotten. This happens all the time when something Surprises us in any way no matter its jealousy or anything.
Our beloved Bollywood Actor, Singer, The Cool Sardar Diljit Dosanjh once shared a pic on Instagram with himself on a private jet which was captioned "New Beginnings starts with Private jet". This news went viral after the post with jealousy somewhere in the industry and Love from the fans. For some days media gave full coverage to this news by making this a frontal headline but as I said we are forgotten, So by the days flies this news also got disappeared.
New Beginning Starts With Private Jet 🛩 pic.twitter.com/xXC6fmpzAl

— DILJIT DOSANJH (@diljitdosanjh) April 17, 2017
But I can bet, you wouldn't have seen any picture of Diljit paaji with a private jet after this. He confessed that he was working on a Punjabi project and he had to go to the shooting location but there was no flight to the shooting location so producers had made arrangements for a private jet for him to reach the location.
He also said that the caption was too simple but misinterpreted by the media.
He wanted to clarify all the pseudo-facts about the Private Jet scenario, but as seen the widespread of the news he thought that people will take it as a PR stunt so he kept it shut.
Sardar wanted to have the feel of a private jet and to fulfill his Euphoria and desire, he used a private jet in his Luxurious Song "High End"
So there are no Actors who own a Private jet in Bollywood. I hope this will help you to clear your facts.